Description
Hypodermic Needle Tips Without Syringe 100 per box or individually packed for smaller quantities.  Hypodermic Needles fit all Luer Lock and Luer Slip Syringes.
Hypodermic Needles compatible with all syringes from our site and offer a wide variety of sizes for every use.
Hypodermic Needles are designed specifically for medical use only to be used by a medical professional or with proper instruction. All supplies listed are verified and approved by the FDA as trusted US manufacturers of syringes and needles.  Each brand offered is guaranteed to meet all US standards for quality and safety.
Sterile
Individually Wrapped
Available in Size Options
Compatible with all Syringes
Proper Disposal Of Needles
Needle tips sold by Cheappinz are disposable products and intended for one use only.   Needles should never be shared or reused, and should be disposed of properly.  For your convenience, see the sharps container below.  Sharps containers offer a safe container for used sharp needle tips to avoid accidental needle sticks.   Please dispose of your needles responsibly.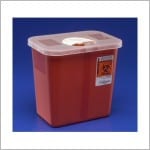 1 Quart Sharps Container