Description
The Sure Comfort brand 1cc Insulin Syringes are sold in boxes of 100, 50, or 10. Make your choice for the amount you would like from the drop down menu. The insulin syringe is a sterile safety syringe that is easy to use. This package deal is a great bargain for veterinary offices and hospitals.
Features of the Sure Comfort Insulin Safety Syringes
Plunger:

The advanced design of the Sure Comfort syringe plunger ensures smooth and correct movement inside barrel during use.

Finger Flange and Thumb Rest:

The optimum design of the finger flange and thumb rest provide comfortable and positive grip for easy control.

Protective Plunger Cap:

This feature helps to maintain sterility of the insulin syringe during shipping

Protective Needle Cap:

This prevents contamination and damage to needle until it is ready for use.

Needle:

Made of special surgical grade stainless steel.
The securely attached needle eliminates needle pop off both before and during use.
The multi-facet needle bevel has a lubricant coating which allows for a more smooth and comfortable injection.

Barrel:

The transparent barrel gives an excellent view of the syringe contents.
It is designed to make it easy to read the graduated numbers. This helps minimize dosage errors.

Plunger Tip:

The plunger tip is molded to make a tight fit so that it is leak proof.
It lines up precisely for accurate reading of the level of fluid.
The plunger tip allows no "dead space" for accurate dosage and less waste.
Proper Disposal Of Insulin Syringes
Insulin Syringes sold by Vet By Mail are designed as a disposable product. They are meant for a single one time use only. We advise that all insulin syringe products be disposed of properly. Customers who bought the Insulin Syringes 1 CC by Sure Comfort have also ordered the products below for proper disposal use: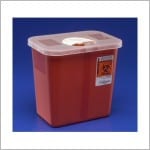 1 Quart Sharps Container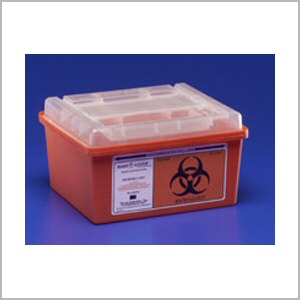 1 Gallon Sharps Container